---
WhatsApp Advertising - marketing your business to million of whatsapp user
A whole lot more opportunities await you!
Mobile/WhatsApp marketing for your business has now become more effective and very impactful. It's even better if we can assist you with your database segregation and scan for those records with Whatsapp application installed, without any additional fee!
Beautiful Advertising Message
When you use Whatsapp for your marketing campaign, you are almost certain that your target audience will read your message. Whatsapp has a more captivating function. This is the same situation with the likes of email.
Best Price, Best Result


Best of all, optimum result with competitive price!



World-class Support


Real-time updates and support, we are available 24/7



Select your Target Market
We work with various parties to provide you the precise targeted market.

No Setup fee, no hidden charges
No catch, you only pay once with no hidden charges.

Delivery report
No more guessing whether we have done the jobs as per request!

High Speed Broadcast
More than 100,000 recipients every day while maintaining service quality

Reaching thousands in a split second
Broadcast
You can now reach a large group of target audience in a matter of seconds. What happens here is that you can send them messages as and when is required. This is perfect if you are launching a new product, a new promotion or when you have any ad-hoc messages to be sent.
Rich Content
You are no longer limited to just text when sending your messages. Using Whatsapp, you can do so without having to worry about costs. Besides text messages, your content can now include images, photos, videos and even audio files. You can even include a location, a QR code and contact information too. In order to maintain effectiveness and the impact of your campaign, we will assist in providing advice about how long your messages should be and what should be included in your messages.
Location Marketing
Through Whatsapp, you can now precisely reach your target markets. This is where you are no longer confined or limited to the location of your target audience. They can be anywhere at any time, stationery or mobile, as long as they are a Whatsapp user, you will be able to reach them.
Demographic Centric
You can reach a specific target group based on their demographics because of their profile on Whatsapp. Hence, whether you are looking for a group of students, working adults, senior citizens, urban or rural, we are able to reach them. They are on trains, cars, office or school, as long a

s they are a Wh

atsapp user, they can potentially be your target market.
Now You Can Reach 32 Million Whatsapp Users in Malaysia
Advantages
• Fastest and Cheapest Way to Promote Your Business
• Targeted Demographics Marketing
• Quick Response Right After Marketing
• Capacity to Carry Links and Images
• Multimedia Flyers/Content Ads
• Video Messages/Promotional Advertising
• And many more…
Benefits of Sosial Media Blasting
Suitable for All
• Retail
• Restaurants
• Property/Real Estate
• Business Services
• Events

• Travel & Tours
• Exhibitions
• Education
• Marketing etc

Huge User Base
• With a database of over 32 Million users in Malaysia alone, social media blasting is sure to boosts your marketing reach

High Reading Rate
• Contrary to traditional Bulk SMS, social media blast boasts a higher reading rate!

Report
A status report will be generated such as:
• Receiver
• Date Sent
• Status & Message Type
We provide 2 Types of WhatsApp Advertising

Type 1 : WhatsApp Blasting
Save More this Month by getting a further 18% Discount!
@ only RM1,130
• Image and Text messages blast by us
• Target the right audience using our database filter by : location, race, gender, age or credit card limit holder
• Delivery report provided after blasting
• No setup fees require
Ask us today for detailed explanation and further discount pricing.

Type 2 : WhatsApp DIY Web Panel
BUY NOW to enjoy further Discount from 18% - 25% !
[ Starter Pack : 5,000 credits - now only RM487.90 / 10,000 credits - now only RM795.70 ]
Introducing our new WhatsApp DIY Web Panel (do-it-yourself) to deliver messages and image/artwork to your own database of prospects and customers. Report provided in the system after delivery.
Just logging into our web panel via username and password. SIGN UP FOR FREE TRIAL!
Not sure whether it works for your business? No worries just refer to the Advertisements from our recent customers.
Web Panel - Send Bulk Message & Image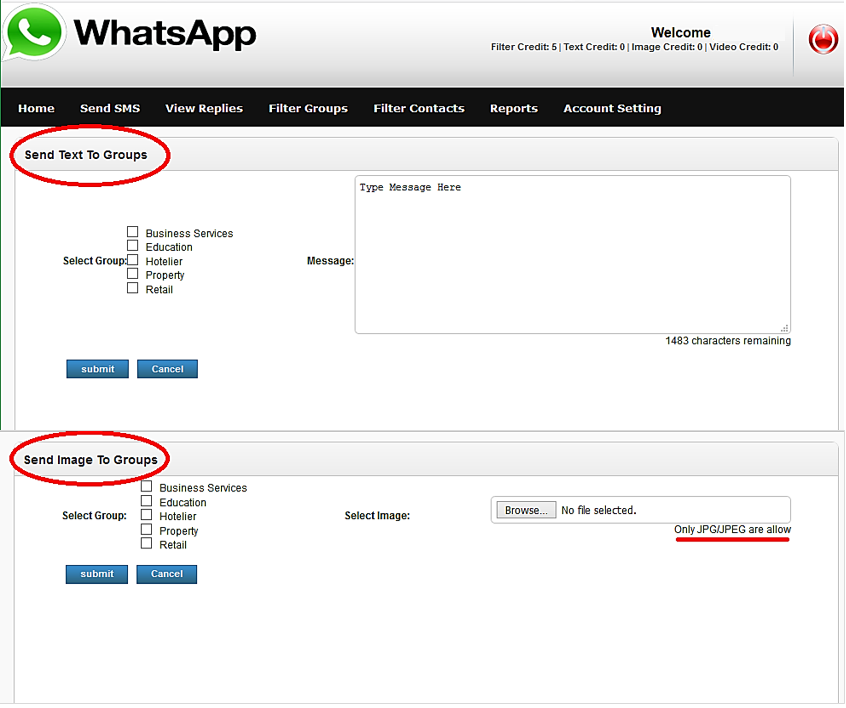 Web Panel - Delivery Report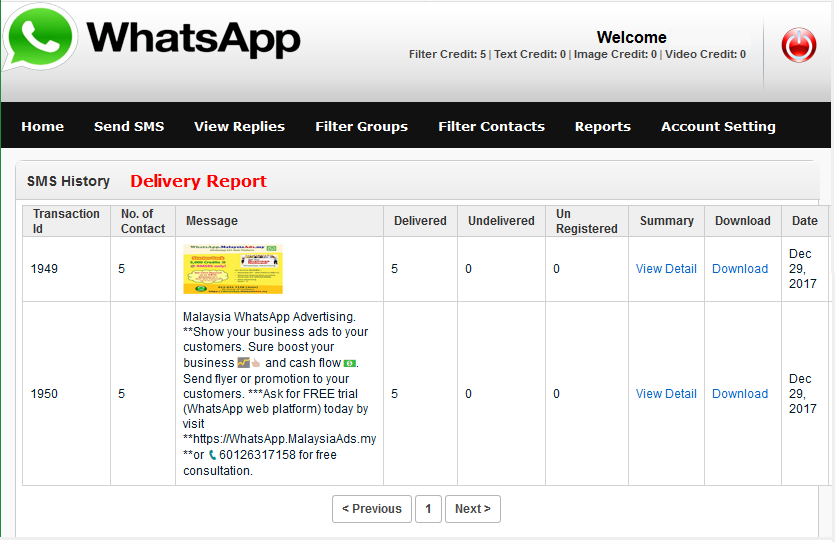 Our Web Panel is simple and easy to use.
You just need to prepare the details as below :
1) One image (jpg file / size 900x900 pixel) + Text message (max 1200 characters) or
2) Text Message only (max 1200 characters)
3) Ready bulk handphone numbers in excel.csv file (comma delimited)
4) Login to our web panel.
5) Start sending messages anytime you wish.
---
Buy Web Credit Now
(Click here for more Credits... or Contact us if you need larger credits)
---